I am all for long leisurely walks most of the time. It helps to clear my head. Being around lush greeneries and catching glimpses of wildlife, big and small, never ceases to fill me with wonder.
I have only ever done an overnight camping trip until now. One night away from the creature comforts I am used to was often enough to make me appreciate the small things. There are only so many things in civilized life I can do without for so long.
I wanted to try my hand at sleeping out in the woods for longer than a night. Perhaps if I can walk a bit farther, linger on the trail a bit longer, I would appreciate nature more and set my inner wild child free.
The Hoh River Trail seemed to be a nice "beginner" trip for me. The slopes are gentle, the camps are plentiful, and hiking along a reliable water source feels reassuring. I did some research and asked people in the know for advice before packing my gear. I opted to sleep in a hammock instead of on the ground so I gave my tent up for a hammock, underquilt, and rain tarp. Forgoing the bear canister, I thought I might work on my bear bag skills instead. If there is one thing rainforests have plenty of, it's trees.
Driving through the Olympic National Park road under a canopy of mossy trees was a treat in itself. It was like being transported to another time and place, somewhere far away, and long ago. There were plenty of people in the visitor center. Groups of young folk just hanging out, families out for a day of picnicking. There were also quite a few cars in the overnight parking area. It felt reassuring to me. As much as I do cherish solitude in the woods, I would want other people in camp especially on my first multi-day trip. At least I would have someone else to ask should I find myself lacking any essential backcountry skills.
The first few miles of the trail was still full of day hikers despite the time of the day. My pack was heavy but my pace was leisurely. Even early on there is already the promise of ancient stands of trees bearded with moss. The afternoon was humid but not too hot to feel oppressive. The uphill slopes were not so steep and the greenery along the way made even the climb a bit enjoyable.
I arrived at my first camp at about 5 pm. There were 2 or 3 other people in the campsite but I had plenty of space for myself. I picked two promising trees for my hammock, and set up camp. My first attempt at hammock camping and it only took me a few minutes. It was a pleasantly breezy day but the wind did no favors for me while I was tying down my tarp.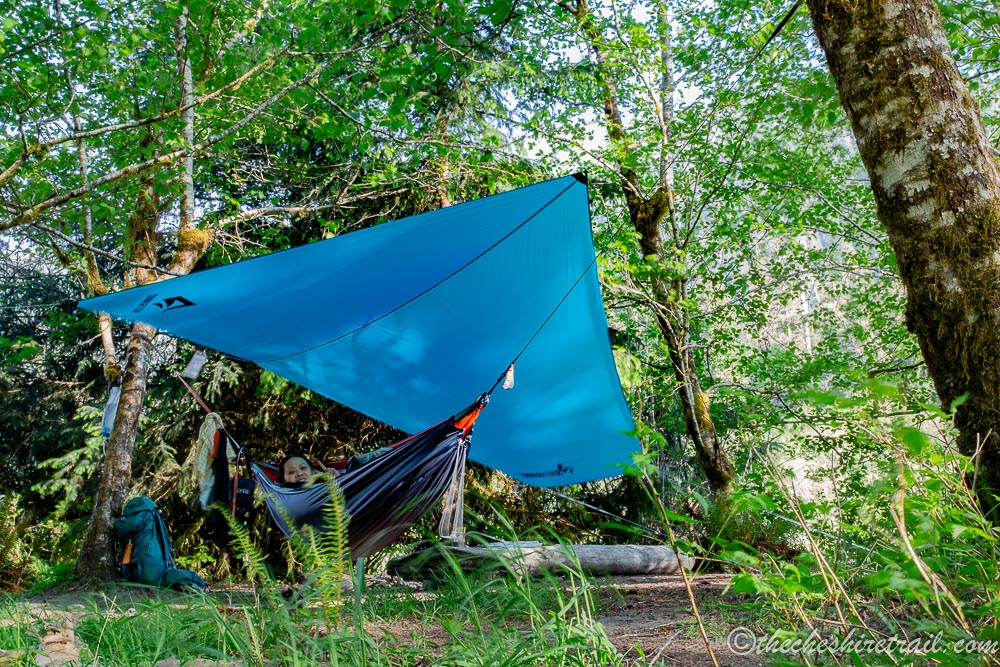 I still had plenty of time before sundown so I scouted around for a good place to take night pictures later. I also went and looked for the bear wire to hang my bag of food. After scarfing down my dinner and getting a water refill from the nearby river, I snuggled in for a quick nap and rest my weary feet. I wanted to wake up at full dark, spend an hour or so taking pictures of stars, watch out for nocturnal foragers across the river, and maybe sneak in one more hot cup of cocoa before snuggling back into my sleeping bag.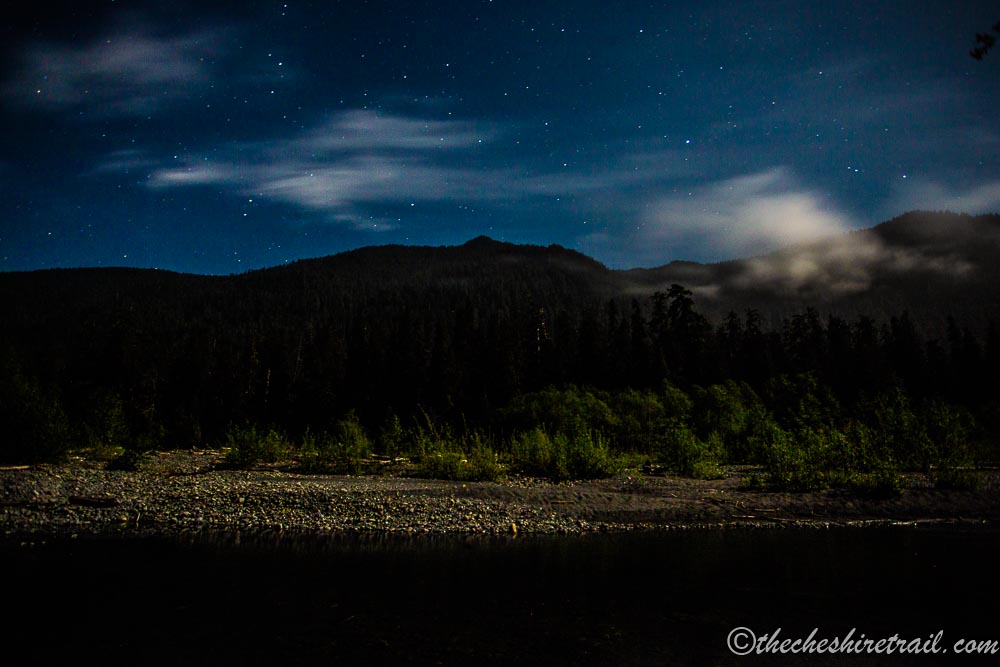 I had found the perfect little spot to set up my camera just a few paces away from camp with a clear view of the river and the woods across as well as a decent amount of open space to see the sky. I spent at least an hour taking long exposure shots, hoping I had dialed in the right camera settings and spent a few more minutes listening for wildlife. I was going for another cup of hot cocoa but the constant rumbling of the river was starting to lull me to sleep so I climbed back into my hammock instead. I have a long walk ahead of me in the morning.